Second edition of RCDN Knowledge Management Newsletter: At the Source of Knowledge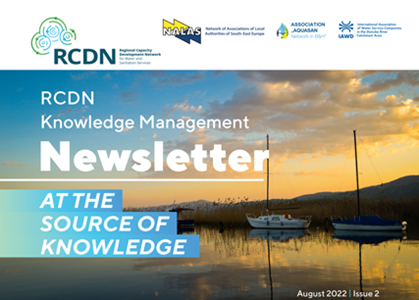 31/08/2022
We are happy to share with you the second edition of the RCDN Knowledge Management Newsletter: At the Source of Knowledge.
The Regional Capacity Development Network (RCDN) for Water and Sanitation Services connects local government units (LGUs), public water utilities (PUCs) and their associations from South East Europe (SEE) to work together on developing capacities in the water and sanitation service (WSS) sector.
RCDN knowledge grows each and every day and provides valuable support to the RCDN partners in their capacity development, advocacy and association development efforts, enabling them do a better job in addressing the key issues of the WSS sector.
This Newsletter will present some of the knowledge and good practices that the Network has generated in the past months. As knowledge is the only thing that multiplies by sharing, we encourage you to take the advantage of anything that you learn from the Network and unselfishly share your knowledge for the next issue of RCDN: At the Source of Knowledge.
In this issue you can read about:
Running a successful training centre: The case of SHUKALB
RCDN Quality Standards for Stakeholder Dialogue
RCDN Wastewater Programmes become reality across the region
Knowledge news from RCDN partners: ALAA, SHUKALB and ADKOM
We wish you enjoy, learn and apply!
Your RCDN team
RCDN Knowledge Management Newsletter-issue 2