RCDN Knowledge Management Newsletter: At the Source of Knowledge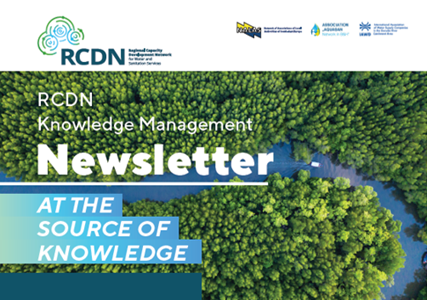 26/08/2021
We are happy to share with you the first edition of RCDN Knowledge Management Newsletter: At the Source of Knowledge.
The Regional Capacity Development Network (RCDN) for Water and Sanitation Services connects local government units (LGUs), public water utilities (PUCs) and their associations from South East Europe (SEE) to work together on developing capacities in the water and sanitation service (WSS) sector.
This is a huge knowledge base that can provide valuable support to the RCDN partners in their capacity development, advocacy and association development efforts. We have established RCDN Knowledge Management System, collecting, organising and systematising the knowledge and making it accessible to our community. This Newsletter will bring some of the elements of this system closer to you. We hope you enjoy it and take the advantage of the RCDN at the source of knowledge.
In this edition, you can find:
Successful cooperation between the LGA and APUC in addressing water and sanitation sector issues: The case of Montenegro
RCDN Library: Your reading partner
RCDN partner associations benefited from a number of Association Development measures – you can also learn from their experience
RCDN Association Development Programme: a tailor-made support to partner associations to exchange with and learn from peers
Coming soon: RCDN Wastewater Programmes
We wish you enjoy, learn and apply!
RCDN Knowledge Management Newsletter: At the Source of Knowledge