Regional Report on Asset Management Practices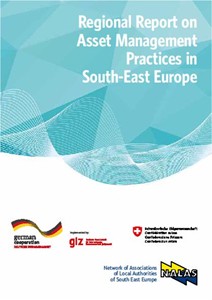 22/07/2015
The Regional Report presents the state of asset management in seven participating countries from South-East Europe.
The Regional Report is based on the findings of National Reports of seven participating countries of SEE, which were produced by national experts of each country. National Reports present findings of existing Asset Management practices in each country. National Report comprises of a National Assessment Report, which presents the overview of AM practices on national level, and Case Study Report, which presents in-depth information about AM practices in public utility (PU).
National Assessment Reports are based on surveys conducted in 4 municipalities/ public utilities in Albania, B&H, Croatia, Kosovo, Montenegro, and Serbia, and 8 municipalities/PUs in Macedonia.
Case study Reports are based on a survey:
a. in one municipality/PU in Macedonia, Montenegro, Serbia, Kosovo, and Croatia, and
b. in two municipalities/PU in Albania and B&H.
The Regional Report on Asset Management Practices is prepared within the project "Asset management for water and sanitation sector in South-East Europe". The project is funded by the German Ministry of Economic Development and Cooperation (BMZ) and the Government of Switzerland and is implemented by GIZ (ORF MMS) and the Network of Associations of Local Authorities of South-East Europe (NALAS).
ENGLISH LANGUAGE
Regional Report on Asset Management Practices
Brochure-short version of the Repo
LOCAL LANGUAGES
Albanian-Regional AM Report
Bosnian-Regional AM Report
Croatian-Regional AM Report
Macedonian-Regional AM Report
Montenegrin-Regional AM Report
Serbian-Regional AM Report