RCDN PAB: Acknowledging the successes and planning the future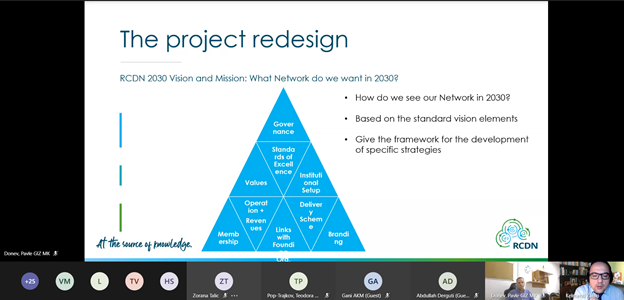 21/12/2020
A meeting of the Project Advisory Board (PAB) of the Regional Capacity Network for Water and Sanitation Services (RCDN) was organised today, bringing together the leadership of 16 Local Government Associations (LGAs) and Associations of Public Utility Companies (APUCs).
LGAs and APUCs presented their achievements in the past two years and the benefits they see from RCDN in strengthening their institutional capacities, improving the capacity development services to their members and advocating for better environment for the WSS sector. They also voiced their expectations from RCDN in the future.
The members of the Project Implementation Team (PIT) presented the upcoming activities for ensuring RCDN's sustainability.
Mr. Kelmend Zajazi from NALAS presented the process for development of RCDN 2030 Vision."Seeing that RCDN is so much appreciated by the partner LGAs and APUCs, we must put all our efforts to continue this success story beyond the project, in the years to come", said Mr. Zajazi. "Thus, we invite you all to take an active role in developing the vision for RCDN in 2030 and build the future together".
Ms. Vesna Muslic from Aquasan presented the process for development of RCDN business model. "By presenting their achievements and benefits from the RCDN project, the partner LGAs and APUCs have demonstrated that great efforts have been invested and that full commitment to building the RCDN as a network will continue", said Ms. Muslic.
Mr. Pavle Donev from GIZ acquainted the RCDN partner Associations with the cooperation framework for 2021 and 2022. "In the upcoming period the project will promote to the partners switch from implementation to delivery, to anchor the Associations' annual plans into project-supported activities, not vice-versa. It will be done by delegating bigger implementation responsibility to all associations, while the PIT will be delegated with mandate and assisted by GIZ, to ensure regional coordination and collaborative approach, utilising the unique mix of organisations' capacities within the PIT. Cost-coverage delivery will be introduced to demonstrate responsibility to German and Swiss taxpayers' money", said Mr.Donev.
***
RCDN aims to increase effectiveness and efficiency of the water utilities in the Western Balkans, contributing to better service provision with larger numbers of population groups getting access to drinking water and sanitation services and meeting the European Union (EU) environmental Acquis Communautaire. To achieve this, RCDN has three key components: 1) Association Development, 2) Capacity Development Offer and Delivery and 3) Partnership and enabling Capacity Development Environment.
RCDN works with LGAs and APUCs in Albania, Bosnia and Herzegovina, Kosovo, North Macedonia, Montenegro and Serbia, while the final beneficiaries are the top and middle managers from municipal and regional utility companies and officers in charge in municipalities. The project is managed by GIZ, on behalf of SECO and BMZ, and is implemented by a Project Implementation Team consisted of IAWD, Aquasan and NALAS.