NALAS at the 2010 China International Friendship Cities Conference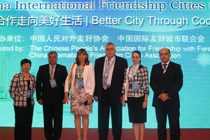 08/09/2010
The 2010 China International Friendship Cities Conference took place in Shanghai on 8-10 September, bringing together over 800 representatives from 49 countries, including Jimmy Carter, the Former U.S. President and Alain Juppe, Mayor of Bordeaux and former Prime Minister of France.
The main theme of the conference was "Friendship Cities Lead to a Better Life", while the discussion topics ranged from the financial crisis, environmental protection, creating a low-carbon economy, city branding, etc.
NALAS President, Mr Vladimir Moskov addressed the audience on the first session titled "How do provinces and cities tackle the impact of global financial crisis?". His speech was accompanied by a video clip (NALAS – Success story from SEE) presented on the big screen.