Local Governments in South East Europe are honoured with the Local Government Studies Award of the Carl and Anneliese Goerdeler Foundation by the City of Leipzig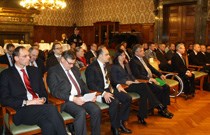 02/02/2011
PRESS RELEASE  02 February 2011
Lord Mayor of Leipzig, Mr Burkhard Jung handed over today the "Local Government Studies Award of the Carl and Anneliese Goerdeler Foundation" to NALAS President Mr Vladimir Moskov and to NALAS Executive Director Mr Kelmend Zajazi in a ceremony held in the City of Leipzig. This is the first time the Award is being given to an international organization and emphasizes special relations between the City of Leipzig and South Eastern Europe.
"We decided very deliberately at this year's awards ceremony to select an international award winner. This is not only due to the fact that we are convinced to a great extent about the quality of the political work of these award winners. This award will rather reflect the fact that the cities and regions at the international level are playing an increasingly important role. They constitute the primary area of internationalization and globalization. " – Lord Mayor of Leipzig, Mr. Burkhard Jung.
The Award is a kind recognition for the NALAS contribution in developing local democracy and improving public service delivery in South East Europe in the past decade.
NALAS – Network of Local Authorities of South East Europe has been established in the frame of the Stability Pact and the support of the Council of Europe. NALAS gathers national local government associations from Albania, Bosnia & Herzegovina, Bulgaria, Croatia, Kosovo, Macedonia, Moldova, Montenegro, Romania, Serbia, Slovenia, and Turkey.
The Swiss and German governments have been supporting the network which is now growing into a strong partnership platform of local authorities in the region. NALAS mission is to actively encourage the decentralization process in South East Europe through strengthening and connecting Local Government Associations and thereby contribute to democracy and stability in the region, and to faster and successful EU integration.
The children of Carl and Anneliese Goerdeler founded the Carl and Anneliese Goerdeler Foundation in 1995 in memory of their parents. Today, the Foundation promotes education, science and research, and arts and culture beneficial for the city of Leipzig. The Foundation contributes to local political and cultural development and promotes the city of Leipzig.
Click here to view this press release in PDF format
Speech of the Mayor of Leipzig (in German)
Speech of Mr Rainer Goerdeler
Speech of NALAS President