Call for participants for a Regional Training in Efficient Organisation and Effective Management of Communal Services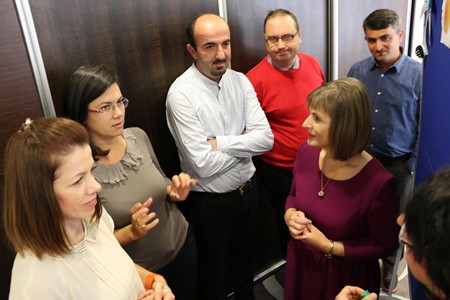 09/11/2016
CALL FOR PARTICIPANTS
for a Regional Training in
Efficient Organisation and Effective Management of Communal Services
13 and 14 December 2016, Zagreb, Croatia
The Network of Associations of Local Authorities of South-East Europe (NALAS), its member Local Government Associations and the German International Cooperation (GIZ), within the project "Local Leaders in South-East Europe: Lead for Change (LL SEE)" enhance leadership and management competences of local decision makers and managers from Municipalities and Public Utility Companies for planning and implementation of investment projects in the field of municipal water supply and sanitation (WSS) infrastructure.
WHAT?
This 2-days Regional Training will:
Provide introduction to the framework for efficient organisation and management of WSS services;
Look into roles and responsibilities in organisation and management of WSS services;
Offer tools and techniques for efficient organisation and effective management of WSS services;
Enable learning from the experiences of Croatia and Regional peer exchange.
Training Topics are:
Water policy, legal and institutional framework for WSS;
Financial and operational performance improvement programme;
Key areas of improvement: public service agreements and tariff policy;
Tools for effective management, key performance indicators and benchmarking.
FOR WHOM?
Teams of Mayors and Directors of Public Utility Companies from: Macedonia, Serbia, Bosnia and Herzegovina and Croatia.
HOW?
The training is designed according to the methodological state-of-the-art of competence development, with high quality standards in each phase of training preparation and delivery, which ensure excellence in training provision. The training is interactive and includes: (1) presentations, (2) discussions, (3) practical exercises and a (4) site-visit.
The working language of the training is English. Good knowledge of English is desirable, however additional translation in the host Croatian language will be provided.
APPLICATION
To apply for the training, please submit: Application for participation at the training latest by: 22 November 2016 to: Katerina Stojanovik Aleksoska, at e-mail: stojanovik-aleksoska@nalas.eu
Important note: Please note that the training is offered only to a limited number of participants (up to 24 participants from the four countries). The total cost of the training, including curriculum development, training materials, training venue, accommodation (in hotel Panorama), food, travel costs, costs for trainers is 1250 EUR per participant. NALAS have a possibility to subsidise most of this costs for a limited number of participants, on the principle "first come, first served" and the selected participants will have to pay only a symbolic participation fee of 65 EUR.
See what you can expect from the training: