Where is decentralisation going? NALAS' Regional Decentralisation Observatory might have the answer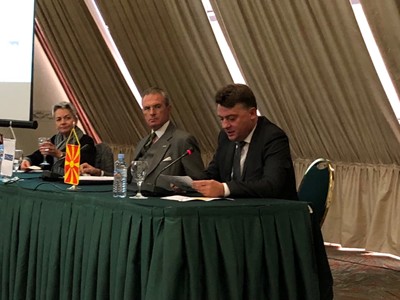 14/11/2018
The fourth workshop on NALAS' Regional Decentralisation Observatory (RDO) was opened today in Skopje, Macedonia. This workshop is finalising the methodology for the RDO and is testing it among the 12 NALAS countries. The RDO is a powerful tool that measures the progress of decentralisation throughout South-East Europe, aiming to serve policy makers to develop better public policies that improve local democracy, local public services and citizens wellbeing.
The workshop was opened by the Mayor of Skopje, President of ZELS and Vice-President of NALAS, Mr. Petre Shilegov, H.E. Ambassador of Switzerland, Sybille Sutter Tejada and Ambassador Clemens Koja, Head of the OSCE Mission to Skopje.
"I don't have to preach on the importance of decentralisation. It is certain that without actual, complete decentralization, there is no democracy, our cities and municipalities cannot develop and our citizens cannot have a better life. But it is also certain that the decentralization is not happening with the required pace. NALAS' annual edition of the Fiscal Decentralization Report confirms this impression, using fiscal data from 12 countries of South-East Europe. This data must be an eye-opener for the politicians who create the fiscal policy of the countries. But, it won't happen without us pushing for it. Thus, such data is a key argument for us, the local governments, and our Associations, to push the politicians to secure adequate funding for our competences", said Mr. Shilegov. "I am happy that NALAS expands the success story of the Fiscal Decentralisation Report by including other areas to be measured by the Regional Decentralisation Observatory, such as the quality of services, as this is what citizens are interested about", concluded the Mayor of Skopje.
"For us, it is of great importance that Regional Decentralisation Observatory is setting-up benchmarks and serves to compare progress in different countries and support each other to go a step further in improving public services at local level. Also, this instrument helps us to see what the decentralization has produced in terms of value added for the quality of life to citizens in the South East Europe. Hence, we congratulate the initiative of NALAS and the Local Government Associations from 12 countries of SEE for developing this instrument and we are looking forward to see the outcomes of their joint efforts", said H.E. Ambassador of Switzerland, Sybille Sutter Tejada. "The Regional Decentralisation Observatory is even more significant as it can potentially serve to the donor community to have a better overview of the decentralization in the region and better design future support at national, but also at regional level", concluded Ambassador Sutter Tejada.
NALAS' Regional Decentralisation Observatory measures 110 indicators in four Dimensions:
Autonomy of local government
Quality of local services
Participation and responsiveness
Inter-governmental dialogue
The establishment of the Regional Decentralisation Observatory is supported by the OSCE Missions in the Western Balkans.