We light it up blue for marking the Autism Awareness Day: Opening a Centre for Treatment of Children with Autism in Shkodra, Albania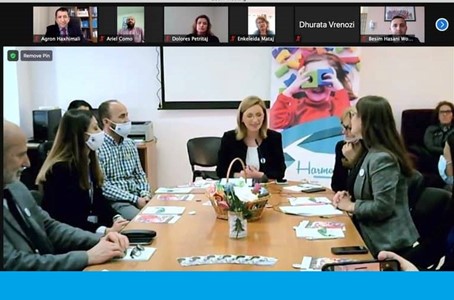 02/04/2021
On 2 April 2021, the Autism Awareness Day, we are happy to be part of a small, but important step – the establishment of the Centre for Treatment of Children with Autism "Harmonia", by the Municipality of Shkodra, Albania, with the support of the Association of Albanian Municipalities, NALAS and GIZ. The Centre will provide daily services for 15-20 children, coming from Shkodra and three other neighbouring municipalities.
With the support of the NALAS' project, the Centre got equipped and the staff was trained for using the Applied Behavioural Analysis therapy, that improves social, communication, and learning skills through positive reinforcement.
"We are happy that we were able to support the Municipality of Shkoder in their important initiative for supporting people with autism and their families. We expect that Centre "Harmonia" will influence their wellbeing and building a brighter future", says Mr. Boran Ivanoski, NALAS Programme Officer. "Establishing and successfully running a day-care centre requires a multisectoral approach, where local governments, other public institutions, civil society and the community itself have important roles to play, so I hope that the community will come together and give a helping hand", concludes Mr. Ivanoski.
The Autism Awareness Day aims to increase understanding and acceptance of people with autism, foster worldwide support and inspire a kinder, more inclusive world. At this day, hundreds of thousands of landmarks, buildings, homes and communities around the world come together to Light It Up Blue in recognition of people with autism and those who love and support them.
This activity is part of the NALAS project "Enhancing local capacities to implement the 2030 Agenda and the Leave No One Behind Principle", implemented by the associations of local authorities from the Western Balkans in cooperation with and supported by the regional project on "Social Rights for Vulnerable Groups". The regional project is implemented by the Deutsche Gesellschaft für Internationale Zusammenarbeit (GIZ) on behalf of the Federal Ministry for Economic Cooperation and Development (BMZ).