UCLG Live session – Beyond the Immediate Response to the Outbreak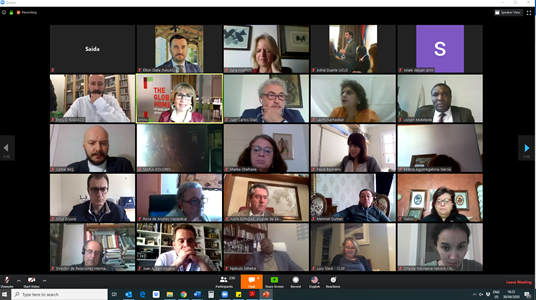 30/04/2020
UCLG and its Committee on Local Economic and Social Development, in association with Metropolis et UN-Habitat, organized a live learning experience for local and regional governments on Wednesday, April 30, from 3:00 p.m. to 5:00 p.m. to promote debate, exchange and search for solutions to challenges that are global and local at the same time. This session, "Actions for the immediate response and the generation of employment and sustainable local economic activity from local governments" was one more opportunity to highlight the work of the LRGs, anticipating crisis situations and answering, on the front line, to citizens.
The main objective was to share and discuss not only the new challenges that the crisis produces and the measures and instruments that are being implemented in the territories, but also to show the value and power of local and regional governments to provide answers at critical moments for employment and economic activity.
Darko Mrvaljevic, Municipal Councillor from Danilovgrad, Montenegro, participated in the event on behalf of NALAS, and spoke in the first round-table, focusing on the impact of the outbreak, challenges for the local economy and employment and mitigation measures. "Danilovgrad adopted immediate fiscal relief measures for local businesses to support them get through this difficult moment. We follow with our municipalities, our association and NALAS to share and learn best practices and try to implement them at home." – shared Mr. Mrvaljevic.
Local governments are key for the implementation of local policies for economic reactivation and promotion of employment, in coordination with the rest of public and private social agents and knowledge management actors of the territory.
This can allow connecting single mitigation and compensatory measures as part of integrated territorial responses and more strategic, forward-looking socio-economic recovery trajectories to 'build back better' on more inclusive and sustainable basis.
"We need to work together to ensure social protection, reduce inequality, improve spatial planning and support local economic development "- stated Ms. Maimunah Modh Shariff, Under Secretary-General of the United Nations and Executive Director of UN-Habitat.