The Forum of Cities and Regions – Involving Local Government Associations at regional and national level as strategic dialogue partners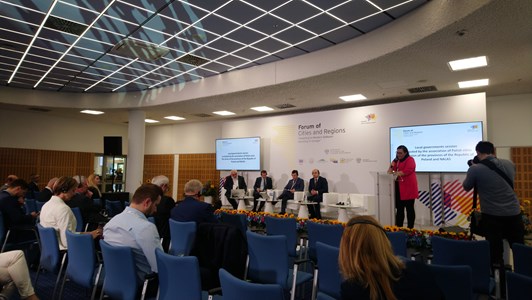 06/06/2019
NALAS contributions in the The Forum of Cities and Regions "Investing in Western Balkans – Investing in Europe" Local Governments session of 6 June,2019 focused on sharing findings of two regional NALAS surveys and active participation in the panel discussion dedicated to the topic of quality public services.
During the opening session, NALAS' executive director, Kelmend Zajazi, highlighted the opportunity to firmly anchor local governments in the framework of the Berlin process as Polish legacy. "We at NALAS are thankful for that" was the appreciation expressed as co-organising entity directed towards the Polish Ministry of Investment and Economic Development and the Association of Polish Cities.
According to the NALAS director, the Forum demonstrates the impressive success of Poland in development since becoming an EU Member State 15 years ago. This has been achieved thanks to the effective use of EU support in midst of a decentralization process where Local governments contributed decisively. In this context, Poland has shown that sustainable development can be achieved as EU member, being at the same time inspiring and motivating for the WB6 countries.
Involving Local Government Associations at regional and national level as strategic dialogue partners was a recommendation voiced to all participants, who take sustainable and inclusive development seriously.
Darko Mrvaljevic from NALAS presented the key findings of the recent NALAS/KDZ survey "Potential contributions of South-East European Local Governments to the Regional Economic Area – MAP REA". The results highlight the potential contributions of the local governments to the Regional Economic Area. The case studies on Local Economic Development from Albania, Bosnia & Herzegovina, Serbia and Austria, which are annexed to the survey, strikingly demonstrate the role of local governments to attract investments and encourage businesses to grow regional. They further show the importance of decentralization and fiscal autonomy and increase of endogenous potentials for economic development. In this context, NALAS was proposed as regional hub to complement MAP REA and to fully exploit its implementation potential by including direct approaches for local governments' roles and action settings.
The objective, aim, structure of the Regional Decentralisation Observatory – RDO, a monitoring tool for measuring and comparing the degree of decentralization and its policy in SEE, was presented by Boran Ivanovski from NALAS. RDO developed by NALAS in cooperation with OSCE and initial support by RCC showed in its internal report findings that a clear trend becomes obvious. By comparing the autonomy and quality of local service dimensions, the trend towards decreasing local investment capacity is apparent. Low scores on the communal services index in energy efficiency, urban mobility and non-satisfactory index findings on solid-waste management and water and sanitation highlight the fact of underperformance of local governments in the local service dimension. This fact is due to decreased financial resources and goes in hand with an increase of dependence on central government block grants at the same time.
The panel discussion on quality of public services was enhanced with NALAS contributions from Danijela Djurovic (Vice Mayor of Herceg Novi, Montenegro) and NALAS Task Force members on Solid waste and Water management, Irem Silajdzic (Bosnia Herzegovina) and Miodrag Glusevic (Serbia). Regarding investment requirements, the NALAS panelists agreed that a major limitation lies within capital investment for the water and supply and waste infrastructure. Besides structural bottlenecks due to outdated or overloaded infrastructure, the adjustment of tariffs pose a serious challenge together with shortcoming in professionalized staffing. Actually, tariffs do not reflect the actual cost for water supply or waste disposal and are therefore not fulfilling the purpose of recovering costs, thus leaving local governments with financial deficits. There was consensus regarding the priority of directing capital investment in infrastructure replacement, modernization and extension in compliance with environmental standards. In general terms, insufficient financial resources were identified as mayor limitations for utilities and services regarding the quality aspect of public service delivery.