Special edition of NALAS Digest: Local Response to COVID-19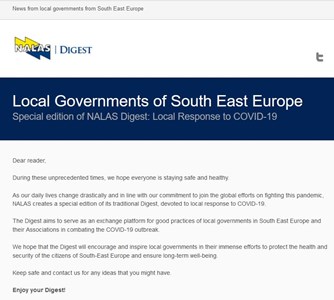 30/03/2020
To contribute to the global efforts on combating Covid-19, during the crisis we transform our traditional electronic newsletter, NALAS Digest into an exchange platform for good practices of local governments in South East Europe and their Associations.
In the latest edition you can find out how Bansko, Bulgaria, a community in a lockdown, compensated for the lack of direct contact by providing virtual health clinic or how Apatin, Serbia started a production of disinfectants to meet the needs of the citizens in the time of shortages. The story of how the community in Țibănești, Romania organised to produce and deliver masks for its citizens and the way Turkish cities are addressing the issue of Covid-19 in public transport are also inspiring; Examples of how Associations from Kosovo, Slovenia and Moldova are advocating for meeting the needs of the affected municipalities and much more are included in this edition.
Check out the full Digest and sign up to get it regularly HERE.