Seventh gathering of the NALAS General Assembly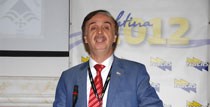 29/03/2012
The General Assembly of NALAS, consisting of 2 mayors from each member association, held its seventh meeting on 29 and 30 March 2012. This year the meeting was hosted in Prishtina, with a great support by the Association of Kosovo Municipalities.
Over 100 participants from South-East Europe and beyond – mayors, municipal officials, experts and guest – participated at the events and contributed in the joint call for renewing commitment to fiscal decentralization.
At the General Assembly, all NALAS former and future presidents also shared their views about the vision of NALAS network. They also called for extension of the Covenant of Mayors to South East Europe. In addition, the mayors from SEE presented their most successful municipal projects which contributed to improving decentralization in different municipal function areas in 2011.
Mr Ozgen Keskin, Mayor of Yildirim Municipality of Bursa (Turkey) was elected by the General Assembly to be the new NALAS president in the upcoming year. He will work closely at this position with the vice presidents Mr Anton Peršak, mayor of the Municipality of Trzin (Slovenia) and Mr Đuro Bukvić, mayor of the Municipality of Lukač (Croatia).
http://www.nalas.eu/News/SeventhgatheringoftheNALASGeneralAssemblyindex