Seeing crisis as an opportunity: RCDN partner associations reflect on their experiences in CD delivery during crisis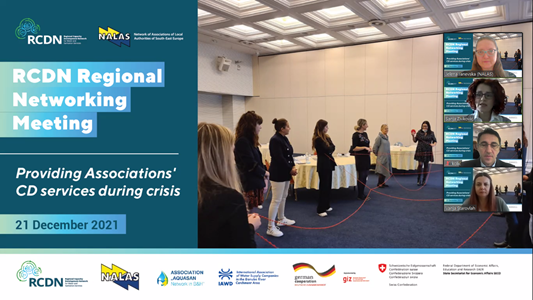 21/12/2021
Although the last two years have been very challenging, both at personal and at organisational level, the associations of local governments and the associations of public utility companies have succeeded to adjust swiftly, meet their members' needs, innovate, do more and reach out to more people than usual.
These were some of the conclusions of the Regional Networking Meeting: Providing Associations' Capacity Development (CD) services during crisis, organised by NALAS within the Regional Capacity Development Network for Water and Sanitation Services (RCDN) today.
In two sessions, 1) Continuity and innovations in providing CD services during the pandemics and 2) Organisational changes and adjustments needed to design and provide effective CD services during the crisis, associations shared their good practices, innovations, challenges and advices for peers when it comes to provision of high-quality CD services during the crisis.
Some 30 participants learnt from the experiences of Shukalb, ADKOM, ATMRS, UoMM, Shukos, IAWD, Aquasan and NALAS.
Participants highlighted that during the pandemics, thanks to online tools they were able to do more and reach out to more people than usual. At the beginning, the priority was to provide members with the relevant information on adjusting and dealing with the pandemics, followed by needs assessments and tailoring appropriate CD services, mostly delivered virtually.
Also, the associations adjusted their CD programmes based on the needs, putting an emphasis on the water safety and crisis management programmes. Some of them equipped appropriate studios for online teaching, used both for virtual and hybrid events. The two regional water conferences organised by Shukalb/Shukos and UoMM/AWM survived all the challenges and were successfully organised these two years.
Although missing and preferring face to face interactions, participants agreed that virtual is not going to leave. Therefore, they have done the necessary adjustments and equipped their organisations and staff to use it in the most effective way. Transferring data on cloud, trainings for digital skills for staff and trainers, assisting members to advance their digital skills, equipping training studios, offering e-learning courses, online knowledge management platforms, developing tools for online decision-making, diversifying online tools used, adjusting training programmes, were some of the changes that associations made to meet the new reality.
"Here, a blessing in disguise, we were very lucky to be a part of the RCDN team in these hard times. Firstly, they supported us in providing necessary equipment and other technical support in order to make only the basis for further improvement of CD delivery. The team prepared a set of measures for all members of the Network for delivering online trainings. Guides, manuals, thematic trainings for preparing and delivering online trainings…. are just some of the set of activities", said Ms. Jelena Borozan from the Union of Municipalities of Montenegro. "And what is important to emphasize is that all of these were not only for FP as organizers, but for the facilitators and trainers, as well. With this, our knowledge was/is improved, our capacities are strengthened, and we decided to jump into the fire and start organizing our first online events. I have to mention that being an organizer of online events is significantly different than being "on the other side", as a participant", concluded Ms. Borozan.
"In the past several years of cooperation, we, as RCDN partner Associations have generated a lot of experience in Capacity Development, water and sanitation services, but also in organisation management", said Ms. Jelena Janevska, RCDN Knowledge Manager from NALAS. "As one of the key values of regional cooperation, we would like to see this knowledge shared among the members of the Network, enhancing their capacities and empowering them to do more and better. In such challenging times, we need to see much ahead and the experiences of our peers can help us to do so", concluded Ms. Janevska.
Thanks to Ms. Elisabeta Poci (Shukalb), Ms. Lolita Stojanova, Ms. Fani Karamiha Petruseva, Ms. Lindita Atanasova (ADKOM), Mr. Branislav Samardzic (ATMRS), Ms. Jelena Borozan (UoMM), Ms. Nadire Vitija (Shukos), Ms. Emilija Milunovic (IAWD), Ms. Vesna Muslic (Aquasan)and Ms. Jelena Janevska (NALAS) for their exceptional contributions during the meeting, as well as to Ms. Vanja Starovlah and Ms. Sanja Zivkovic for their great moderation of the event.
As this is the last RCDN regional event for 2021, we wish you all great health, lots of joy and happiness and tones of success in 2022!