Tarzan Milosevic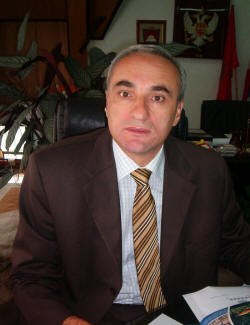 26/11/2022
Mr. Tarzan Milosevic, currently Minister of Agriculture and Rural Development in Montenegro, was president of NALAS between 2005 and 2009.
Mr Milosevic was mayor of Bijelo Polje from 2002 to 2010 and has also been a member of the Parliament of Serbia and Montenegro between years 2003 and 2006, president of the Managing Board of the Union of Municipalities of Montenegro during years 2003 to 2007, member of the Congress of Local and Regional Authorities of the Council of Europe between 2003 and 2007 and member of the OSCE Parliament on behalf of Assembly of Serbia and Montenegro between 2004 and 2006. He is also a member of the Managing Board of the Agency for promotion of foreign investment in Montenegro.
We have many challenges ahead of us. Let us turn them into great opportunities. To turn the challenges into opportunities will be possible if we are ready to meet our responsibilities. This refers to delivering good governance in our cities and municipalities. We have to be aware of the fact that European standards can be implemented only if our local authorities are able to deliver high quality services and to promote cultural, social and economic development at local level, through appropriate political leadership. On the other hand, our regional cooperation can really help to overcome dividing lines within the region. We can do something that is very difficult for representatives of national level: unite through cooperation the region of SEE based on values such as democracy, human right, solidarity and tolerance.
More than 2,500 years ago, during the Athenian Golden Age, Pericles, looking at the Acropolis, said: "They will say of us that we have created the most beautiful and happiest of the cities." A happy and prosperous society is our main goal, and democracy is the only way of achieving it.
– Mr Milosevic at the NALAS General Assembly in Podgorica on 15 December 2006