Emil Draghici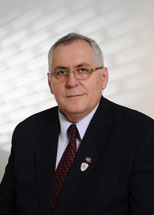 26/11/2022
Mr. Emil Drăghici is Mayor of Vulcana-Băi, Dâmbovița County, Romania (website), President of the Association of Communes of Romania (website) and Prime Vice-President of the Romanian Federation of Local Authorities.
Mr. Emil DRĂGHICI graduated the Law Faculty of the Ecological University from Bucharest and he completes a PhD in Administration Sciences at the National School of Political and Administrative Studies from Bucharest. Starting to work for Vulcana-Băi city hall in 1978, in the bookkeeping department, he became the main accountant of this department and then, in 1990, director of the Taxes and Fees Department of the General Direction of the Public Finances of Dambovita County, after 2 years of working in this organization. In 1990 he became the Mayor of Vulcana-Băi commune, being elected for the sixth time in 2012.
As of 2005, Mr. Emil DRĂGHICI has been an observatory member of the Romanian delegation to the Committee of Regions in Brussels and from January 2007 he became full member of the Committee of Regions. He is alternate member of the Policy Committee of the Council of European Regions and Municipalities – CEMR – and member of the World Council of the United Cities and Local Governments – UCLG.
In Romania Mr. DRĂGHICI is a very active collaborator of the Ministry of Public Administration, Ministry of Finances, Ministry of Education and Ministry of Agriculture, working with different commissions for developing, adapting and changing normative acts which affect local public administration activity. His activity as lobbyist is very well known in Romania, being recognized by central administration as reliable partner.
He is also a member of the Commission for local loans licensing and approval and member in different national and regional committees dealing with rural and regional development.