Second edition of the NALAS Statistical Brief: Local Government Finance Indicators in South East Europe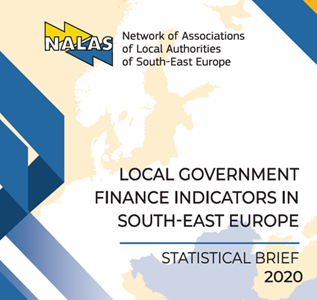 26/10/2020
NALAS published the second edition of the Statistical Brief: Local Government Finance Indicators in South East Europe, which is an ongoing effort of NALAS' Fiscal Decentralisation Task Force to provide policy–makers and analysts with timely, accurate, relevant, reliable and comparable data on local government finance in South–East Europe (SEE).
This "pocket size" practical booklet includes quantitative information only, in the form of tables and graphs allowing readers to quickly get an insight about local finance status and development in South-East Europe.
The report is structured in three main sections. The first part provides an overview of the size and structure of local governments in SEE. The second part provides regional comparisons on the status and development of national and local government finance in SEE in 2019. The data are provided in different formats, allowing much more comparisons and further utilization by users. The 2019 local government finance data bear a significant importance as serve as the baseline against which the impact of the COVID-19 pandemics will be measured in the coming years.
The third section shows the patters and evolution of national and local government revenues and expenditures for the period 2006-2019 in each of the SEE economies through selected indicators of macro–economic performance and fiscal decentralisation.
For additional information contact us at info@nalas.eu and stafa@nalas.eu.
Download the Statistical Brief here:
NALAS Statistical Brief – Local Government Finance Indicators in South-East Europe-second edition