RCDN Training on EU Funding Sources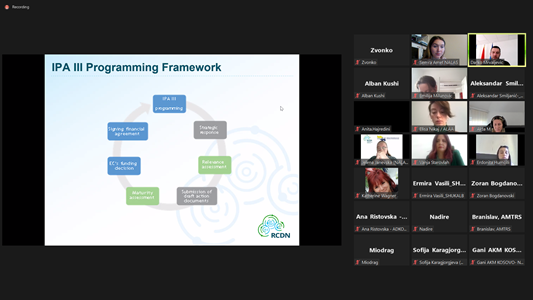 24/02/2022
On 24 February 2022, NALAS within the Regional Capacity Development Network for water and sanitation services (RCDN) organised a Training on EU Funding Sources.
30 participants, representing local government associations, municipalities, associations of public utility companies, public utility companies, as well as representatives of GIZ, AQUASAN, IAWD and NALAS were informed about funding opportunities from different EU programmes and instruments.
In the first session, led by trainer Darko Mrvaljevic, the topic of the Programming process for the EU support was covered, including:
The concept of programming
Significance and function of strategic planning / preparation of the strategic response
Basics of project identification
On the other hand, Vanja Starovlah, in the second session spoke about the IPA III Cross-border and territorial cooperation programmes, focusing on:
Bilateral cross-border programmes – overview of available CBC programmes for RCDN countries
Interreg programmes – overview of the available Interreg programmes for RCDN countries
Main lessons learnt from IPA II and brief guidelines (tips) for successful preparation of the project proposals
This training will be followed by additional sessions on 3 March 2022 where participants will be introduced to the principles of the Western Balkans Investment Framework (WBIF), as a key EU instrument for support in the preparation and implementation of infrastructure projects.