No one should be left behind in the process of digital transformation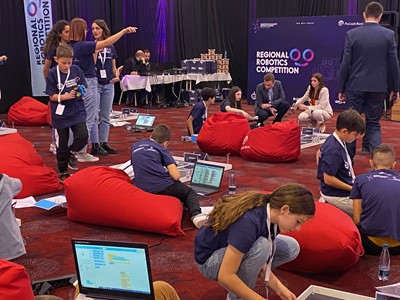 26/09/2022
The 5th Western Balkan Digital Summit took place in Prishtina on 21-22 September 2022, highlighting four main platforms: Network & Services Connectivity, Trust and Security, Digital Skills, and Digital Economy.
NALAS hosted the Smart Cities and Digital Transformation of the Local Governments side event, moderated by our the Digitalization and Smart City Officer, Jana Belcheva Andreevska.
"Data exists, but is rarely open or used to support decision making or for impact analysis. NALAS will work with the Working Group on Digitalization on the areas where the Regional Decentralization Obeservatory analysis are showing needs and priorities, but also will promote good experiences, and exchange knowledge on how technology can be use for better quality of life of the citizens" – emphasized the NALAS Digitalization and Smart City Officer.
The NALAS Smart Cities and Digital Transformation of the Local Governments included the following distinguished speakers:
Donjeta Sahatçiu, Deputy Mayor of the host city of Prishtina
Erol Özgüner, Head of IT Department of Istanbul Metropolitan Municipality and B40 Network Smart Cities and Digital Transformation Working Group
Zorica Bilic, Country Coordinator from GIZ Open Regional Funds for South East Europe – Modernisation of Municipal Services
Donjeta Sahatçiu stressed out that the city of Prishtina has potential by cooperating with start-ups and young population.  She added that the understanding of need for technology improvements is high, but the implementation goes hand in hand with acceptance of all the actors. She stressed out that there is a digital divide between young and old, but also men and women population and this is crucial to be addressed effectively.
Zorica Bilic presented how new digital technologies help in modernizing municipal services in Western Balkans and what is GIZ ORF approach in this regard. She stressed out the importance of collaboration and exchange of solutions by saving time and efforts in implementation such as successfully launched national projects that were expanded regionally, such as e-building permits, E-registration of seasonal workers in agriculture in Serbia, AgroLIE for Agricultural sector tools etc.
Erol Ozguner presented Istanbul, city with 18 million citizens and its complex challenges from digital inclusion, integration of all existing systems, poverty ad migration and support by technology, as well as solidarity. He shared IMM Vision and Strategy, on how digital technologies will connect people, information and city elements, enabling improvement of the quality of urban life – human centric digital transformation and solutions.
Speakers also discussed the importance of investment in digital skills and the moto: no one left behind from the benefits of digital transformation, from local administration to citizens who are the final users.
The panelists agreed that the importance of the digitalization at local level where the immediate and direct services for the citizens are delivered is crucial and need to be strengthened, supported by donor community as well as with investment in skills of everyone.
The discussion was very vivid and interesting and participants were happy to continue their cooperation not only in their immediate field but in exchange of best scenarios and case studies with other participants and people from the audience.