NALAS study presented at the World Bank workshop on the impact of COVID-19 on local government finances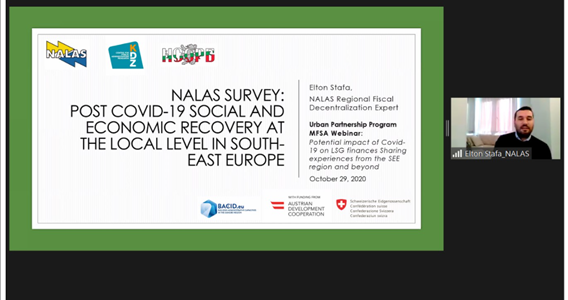 04/11/2020
On 29 October 2020, the World Bank – Austria Urban Partnership Program (UPP), conducted a Technical Workshop on "The impact of COVID-19 on local government finances: Sharing experiences from the SEE region and beyond". The main topic of this workshop was sharing experiences from local governments across Europe on the impact of COVID-19 on local government financial health and how the Municipal Finance Self-Assessment (MFSA) tool could be used to assess the potential impact of COVID-19 on local finances by developing different scenarios.
During the workshop, NALAS Regional Fiscal Decentralisation Expert, Mr. Elton Stafa presented the results of the Survey: South-East European Local Governments in the Post COVID-19 socio-economic recovery, that NALAS conducted with its members and the local governments in the region of South-East Europe earlier this year.
Here you can find the link to the event page where you can access the video recordings and presentations, as well as additional useful reading materials like: (1) MFSA available resources; (2) Better Cities, Better World, A Handbook on Local Governments Self-Assessments, and others.