NALAS members exchanged their experiences in post COVID-19 reopening and recovery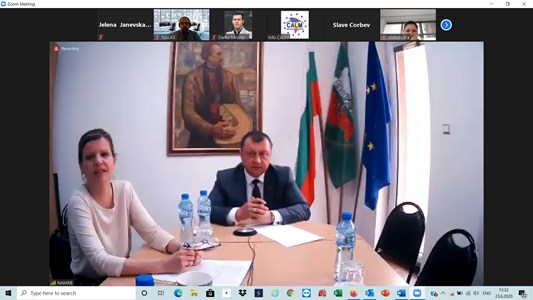 23/06/2020
An online meeting of the NALAS Committee of Liaison Officers took place today.
The new NALAS President, Mayor Emanuil Manolov, chaired the meeting and presented the priorities of his 2020/2021 Presidency, supported by the National Association of Municipalities in the Republic of Bulgaria (NAMRB):
Social and economic recovery of local authorities in SEE after COVID-19 pandemic;
Active involvement in activities under the Joint Presidency of the Republic of Bulgaria and the Republic of North Macedonia of the Berlin Process;
Fostering the efforts for democratisation and decentralisation of local authorities in Southeast Europe.
The Committee of Liaison Officers exchanged on the experiences of member Local Government Associations in post COVID-19 reopening and recovery.
NAMRB presented their assessment on the financial impact of COVID-19 crisis to Bulgarian municipalities. During March and April 2020, Bulgarian municipalities have lost around 40% in their revenues. NAMRB took swift actions to protect the interests of municipalities and lobbied for adequate programmes of Bulgarian Government for crisis prevention and mitigation measures at local level.
The Association of Kosovo Municipalities (AKM) presented their Scenario-Plan for AKM Future Operations. During the COVID-19 crisis, AKM changed its approach from programmatic to reactive and responsive. Three different scenarios for AKM operations have been developed, based on the predictions for the virus development, focusing on the advocacy and lobbying and the capacity development function of the Association.
The new NALAS associate member, the Albanian Association for Local Autonomy (AALA), presented the findings of their Assessment Report on Civil Protection and Public Safety in Albania, focused on the role of local government in emergency response, in view of the 2019 earthquake.