NALAS member – Association of Kosovo Municipalities (AKM) launches its Training Centre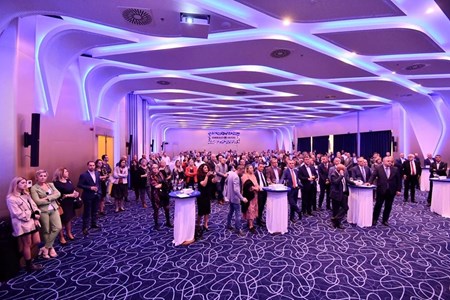 29/10/2019
In a ceremony that took place in Hotel Emerald, the Association of Kosovo Municipalities marked the launching of the AKM's Training Centre- a new advanced service program for Kosovo municipalities. This project comes as a result of the Association's continuous engagement on lobbying and advocacy on behalf of municipalities towards the Government, the Assembly of Kosovo and other relevant stakeholders, on several issues aiming at improving services for citizens at the local level.
The ceremony was attended by the Ambassadors of Switzerland and Sweden in Kosovo, Mayors, various municipal officials as well as hundreds of AKM's associates and partners of the Municipalities and the Association. The President of AKM, Mr. Agim Veliu, in his opening speech stated that "this evening the Association celebrates a new success story- a historic milestone for the organization and all its member municipalities. We are launching the Association of Kosovo Municipalities' (AKM) Training Centre-our most recent program." 
With the establishment of the Training Centre, the Association of Kosovo Municipalities is expanding its range of services by providing politically elected and appointed officials in the Municipalities with a platform where they can address their demands for fostering their knowledge and improving their skills in different areas related to local government, added Mr.Veliu. He also expressed AKM's gratitude towards the partners, including: USAID, the European Commission, GiZ, OSCE, UNDP, NALAS and other partner organizations of the Association.
In addition, the Ambassador of Switzerland in Kosovo, Mr. Jean Hubert Lebet and the Ambassador of Sweden in Kosovo, Mrs. Hernmarck Ahliny also delivered their remarks.
Furthermore, in a short presentation regarding the training centre, Mrs. Edona Peci-Training Centre Manager, after elaborating the objectives, modules and functioning of this Centre said that "The Training Centre is in charge of designing, organizing, implementing, monitoring and evaluating AKM's comprehensive and standardized capacity development program. AKM intentionally focuses on politically elected and appointed officials as they are offered limited training opportunities. The AKM program approach for capacity development is entirely demand-based according to the needs of politically elected and appointed officials in municipalities".