NALAS Energy Efficiency Task Force discusses EU legislation for energy efficiency measures at local level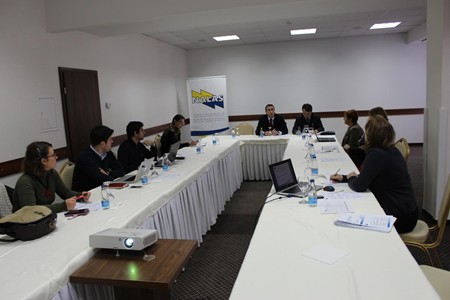 02/12/2015
From 31 November until 1 December 2015, NALAS Task Force on Energy Efficiency gathered in Prishtina, the City of the Host of the Task Force – the Association of Kosovo Municipalities. The group discussed one of the highest priority topics on its agenda, the EU legislation for energy efficiency measures at local level in South Eastern Europe. The possibilities to adapt EU legislation for implementation at local level with view to the regional and national specificities, regional exchange and transfer of knowledge from the EU members to the non-EU partner associations in areas like transposing EU directives in energy efficiency, connecting the National Energy Efficiency Actions Plans with the Sustainable Energy Action Plans of the local authorities, energy management and energy certification are amongst the themes of highest interest for the work of the Task Force. Awareness raising of the decision makers on the importance of the energy efficiency measures at local level, as well as motivation of the citizens to improve energy efficiency were amongst the most important factors for success of the energy efficiency measures at local level listed by the Task Force members.
Meeting with the Mayor of the City of Prishtina
NALAS Task Force on Energy Efficiency visited the City of Prishtina and had the opportunity to get acquainted with the latest achievements of the municipality in the energy efficiency sector from the Mayor of the City of Prishtina himself. Mr. Shpend Ahmeti familiarised the Energy Efficiency Task Force members with the new and ongoing municipal initiatives for improving the district heating facility operation and effectiveness, the measures to modernize the public transport, to introduce integrated approach in promoting energy efficiency measures both in public and housing buildings during the whole building cycle from citizens' participation through planning to incentives for energy efficient construction and renovation of the existing building stock. Ambitious and impressive developments indeed! Mr. Ahmeti also underlined the importance of regional exchange and peer-to-peer learning in generating and capitalising on knowledge for the local governments' benefit.
The external international expertise for the workshop has been provided through the project "Capacity building of the countries of the Western Balkans and the Republic od Moldova" funded by the Austrian Development Agency (ADA) and managed by the Austrian Association of Cities and Towns (AACT) and KDZ Center for Public Administration Research.