NALAS and RCDN support a new generation of trainers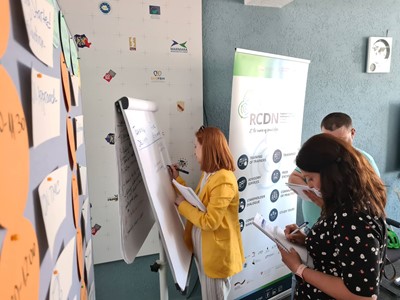 30/05/2022
On 26 and 27 May 2022, NALAS organised a tailor-made Generic Training of Trainers (ToT) for the trainers of ADKOM, the Association of Public Utility Companies in North Macedonia. ADKOM is one of the partner associations of the Regional Capacity Development Network for Water and Sanitation Services (RCDN) and will be the first one to pilot the new RCDN Waste Water Treatment Programmes.
Participants got acquainted with the RCDN Quality Standards for training delivery and peer exchange and got practical skills that will help them design and deliver high quality sessions. They explored all the steps of the Training Management Cycle, while learning about and practicing different trainers' and facilitators' skills and tools that ensure interactive and co-constructing capacity development measures.
The training was delivered by NALAS' Jelena Janevska and Miodrag Kolic.
"I am happy that in our ToTs we are involving professionals from Public Utility Companies, who have the expertise in the sector and with our help can structure it and transform it into an interesting and engaging training", said Jelena Janevska. "RCDN trainings always make a difference, in many ways: superior content, engaging methods and motivated trainers", adds Miodrag Kolic.
It seems that participants strongly agree with this. In their evaluations, they expressed high satisfaction from the ToT. "Both trainers complement each other extremely well. It was obvious they are an amazing team, and I was very happy with the training as a whole", said one of the particopants in the evaluation form.
Such ToTs will be also organised in Albania and Bosnia and Herzegovina, where the piloting of the RCDN Waste Water Treatment Programmes will also take place.
***
RCDN aims to increase effectiveness and efficiency of the water utilities in the Western Balkans, contributing to better service provision with larger numbers of population groups getting access to drinking water and sanitation services and meeting the European Union (EU) environmental Acquis Communautaire. To achieve this, RCDN has three key components: 1) Association Development, 2) Capacity Development Offer and Delivery and 3) Partnership and enabling Capacity Development Environment.
RCDN works with LGAs and APUCs in Albania, Bosnia and Herzegovina, Kosovo, North Macedonia, Montenegro and Serbia, while the final beneficiaries are the top and middle managers from municipal and regional utility companies and officers in charge in municipalities. The project is managed by GIZ, on behalf of SECO and BMZ, and is implemented by a Project Implementation Team consisted of IAWD, Aquasan and NALAS.