NALAS Advisory Concilium meets to discuss policy recommendations on socio-economic recovery measures in dealing with COVID – 19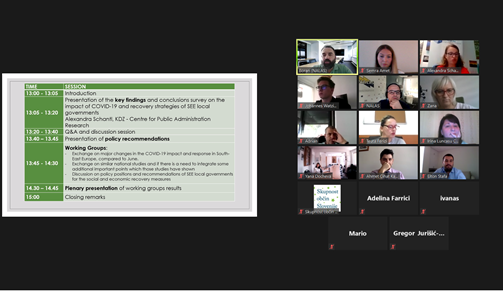 09/09/2020
The NALAS Advisory Concilium met online on 9 September, 2020 to exchange on the NALAS COVID-19 Survey and identify policy positions for the Socio-Economic Recovery at the local level in South-East Europe.
The experts of the Advisory Concilium were all involved in collecting data in regards to the Survey as well the identification of Good Practices. This Survey will serve as basis for the better understanding not only of the impact of the widespread lockdown on the ground in the SEE, but also the type of the response measures taken at local and regional levels in South-East Europe.
The Advisory Concilium also exchanged on recent COVID-19 related developments in SEE since the collection of data as well as the policy recommendations for the socio-economic recovery.
The final findings of the Survey and the Good Practices will be promoted at the Online Mayors' Conference: South-East European Local Governments in post COVID-19 Socio-Economic Recovery, organized by NALAS.
To register for the Conference, please register at the following link.