Mobilise! Ensuring inclusive and sustainable fiscal decentralisation processes to strengthen local development and post-COVID-19 recovery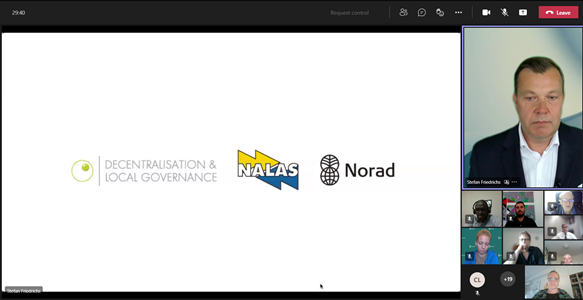 26/09/2021
How to overcome the local finance crisis and re-boost (or create a new momentum for) fiscal decentralisation?
What reforms are needed to ensure proper post COVID-19 socio and economic recovery?
How would LED look like after the crisis?
How can Mayors' innovation and digitalisation initiatives help overcoming the current challenges?
Where we need to direct the decentralised local governance support in the upcoming years to properly address these challenges?
How to improve intergovernmental dialogue and coordination for a quick recovery and restarting the discussion on (fiscal but not only) decentralization?
How to mobilise stakeholders at the subnational level to ensure inclusive reform processes and recover better?
These were the challenges discussed during the session Mobilise! Ensuring inclusive and sustainable fiscal decentralisation processes to strengthen local development and post-COVID-19 recovery organised by NALAS and NORAD, on 21 September 2021, within the Annual Meeting of the DeLoG Network.
Mr. Turgut Tuncay Önbilgin, President of Istanbul Investment Agency emphasised that despite the huge revenue losses due to COVID-19, Istanbul Metropolitan Municipality increased its service portfolio to meet citizens' needs and ensure socio-economic recovery. In such circumstances, 20,000 new jobs have been created.
"Crisis caught many of the municipalities unprepared to cope with the new challenges", said Mr. Elton Stafa, Fiscal Decentralisation Expert from NALAS. "But, if you know the context, this is not a surprise. NALAS decentralisation observatory was warning for long time that many of the municipal competences remain underfunded".
Mr. Stafa also stressed that open and inclusive dialogue among stakeholders must be in place when deciding on policies and measures. Resilience and crisis management require flexibility in funds allocation, for a timely reaction.
Mr. Antony Lamba, from UN-Habitat/NORAD spoke about strengthening resilient and inclusive revenue mobilisation in Afghanistan, focused on land and property tax revenues for service delivery, reconstruction, citizenship building and sustaining peace in fragile states.
Mr. Raphael Frerking from GIZ elaborated the approaches to inclusive local finance, through Ghana practices "Good governance enables inclusive development".
"Both for local development and in times of crisis, dialogue is key, horizontally and vertically, among the different levels of government, but also within the community. Also, the capacities of local governments have to be accessed and complemented well. In these processes, Local Government Associations have a key role to play", agreed the participants.