Meeting of the NALAS PR Network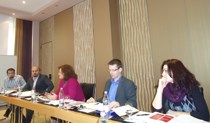 13/12/2010
The PR Officers of the NALAS member associations gathered in Ljubljana on 13, 14 December 2010 to discuss and finalize the NALAS Communications Strategy 2011-2013. These PR Officers form an ad-hoc group of experts that deal with public relations, but often also knowledge management, project management and other tasks in their local government associations.
The meeting included a discussion and proposals for communications coverage of important NALAS events, like the upcoming NEXPO 2011 in Sarajevo, meetings of presidents of NALAS member associations and the meetings of the NALAS General Assembly.
Having recognized the need of several NALAS members to create new, or update their current respective communications strategy, the group started work on creation of communications strategy – the first one being for the Congress of Local Authorities from Moldova.