Local governments' standpoints on using the EU funds voiced during the 2016 Enlargement Day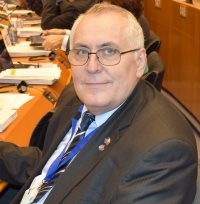 06/06/2016
Mr. Emil Draghici, Mayor of Vulcana Bei in Romania, President of ACOR and former NALAS President, represented NALAS during the 2016 Enlargement Day, organised by the Committee of the Regions in cooperation with DG Neighbourhood and Enlargement Negotiations of the European Commission, in Brussels on 2 June 2016.
Speaking during the debate on EU local and regional authorities experience in using structural and cohesion funds: transposing lessons to pre-Accession funds, Mr. Draghici said that it is very important to emphasise that increase of local government associations' role in programming will improve the use of the cohesion and pre-accession funds. Further steps can be taken to increase knowledge on EU funding such as database on EU funding, on-demand practical trainings based on comprehensive training curriculum and joint application processes, assistance in partner search; instrument/platform for scanning and matching EU opportunities like monitoring EU opportunities and dissemination of information per eligible member countries, scaling up best practices on pre-financing and co-funding.
"The single instrument of the DG NEAR that was especially dedicated for local governments – the Local Administration Facility – was discontinued by the European Commission. At the moment, there is no similar initiative to fill the void, regardless of the need for such initiative and the impact at grass root level", said Mr. Draghici. "There are several arguments that the LAF Programme should be recovered, and NALAS was and is committed to restart the programme with view to improve the service and to maximise its impact".
During the Enlargement Day, Mr. Goran Svilanovic, the Secretary General of the Regional Cooperation Council (RCC) underlined the RCC's excellent cooperation with NALAS saying it is "our common objective to make sure that local administrations are well prepared for the demanding process of accession and subsequent EU membership". Mr. Svilanovic openly supported the LAF request voiced by NALAS and the Montenegrin JCC delegation in the plenary session.

The Enlargement Day is an event dedicated to raising awareness of the local and regional dimension of the enlargement process. During the event, participants exchanged experiences and good practices on how to involve the local and regional authorities in the EU enlargement policy. More information on the event is available at http://cor.europa.eu/en/events/pages/enlargement-day.aspx#mtkeywords=Regional%20Cooperation%20Council.