Local authorities are the most appreciated institutions by citizens of Moldova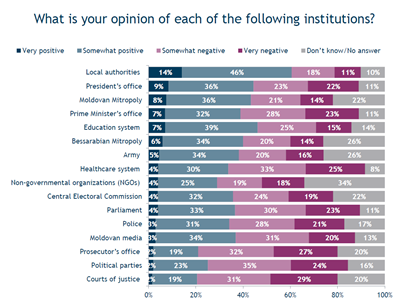 20/12/2021
Hard work always pays off, has been proved in the case of Moldovan municipalities. In reputable research commissioned recently by the International Republican Institute (IRI) in Moldova, citizens ranked local authorities on the top, before the President's office, Moldovan Mitropoly, Primer Minister's office and the education system. 60% of the respondents said that they have a positive opinion for the local authorities.
Read more about the research: https://www.iri.org/resource/iri-moldova-poll-finds-majority-approve-president-sandu-widespread-economic-concerns
Such results once again confirm our longstanding and tireless efforts for decentralisation throughout South-East Europe. Some of these messages we shared during the last EU-EaP Local Leaders' Forum "Deliver more, serve better: Local Public Administration Reform as a booster for sustainable and inclusive development", held two weeks ago, the first one being: To keep decentralisation high on the political agenda.
We congratulate Moldovan local authorities and wish them many more successes in the years to come. The comprehensive advocacy and capacity development support they are receiving on daily basis from their Association, the Congress of Local Authorities of the Republic of Moldova (CALM) is certainly part of their success. We are proud to have them as our members and happy that we were part of their success.