Life is Better with Heritage: Study tour on Conservation of Cultural Heritage on Local Level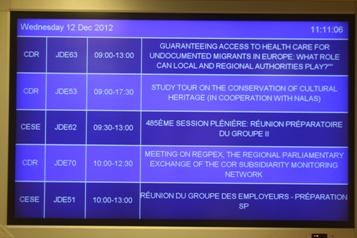 10/12/2012
From 10-12 December 2012, in Brussels, NALAS co-organized a Study Tour on Conservation of Cultural Heritage on Local Level. This was the first NALAS activity implemented in cooperation with the Local Administration Facility (LAF), the Technical Assistance and Information Exchange (TAIEX) instrument managed by the Directorate-General Enlargement of the European Commission and the Committee of the Regions.
Some 40 participants, representing municipalities from Western Balkans took part in the study tour and learned about the EU policy and programmes on the conservation of cultural heritage and the important role that local governments play in preserving their cultural heritage.
The study tour also provided an overview of the functioning and decision-making of the EU, and enabled insights into the Ljubljana Process. Participants had the chance to meet different EU institutions, organizations and programmes that deal with cultural heritage, learn from their experiences, establish cooperation and network with each other.
During the study tour, best practices from Belgium, France, Poland, Czech Republic and the Western Balkans were presented. The study tour was chaired by Ms.Milena Garthley, NALAS Programme Officer.