Learning from the past, good planning and cooperation are the key for dealing with emergency situations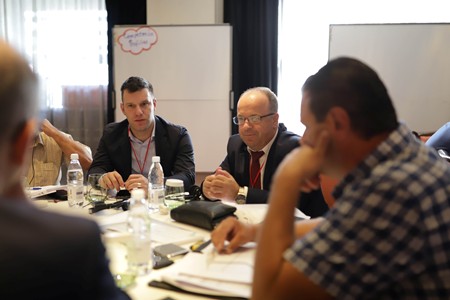 26/09/2018
"Municipal response to migration movements and emergency situations", was the focus of the regional event organised by the Deutsche Gesellschaft für Internationale Zusammenarbeit (GIZ) on behalf of the German Federal Ministry of Economic Cooperation and Development, in cooperation with NALAS, on 18-19 September 2018 in Sarajevo, Bosnia and Herzegovina.
Migration remains an important issue in the Western Balkans. In the first five months of this year, Bosnia, Montenegro and Albania registered more than 6.700 new migrants and refugees, most of them on their way to the EU, which is more than twice than the whole 2017. Thus, this is now often considered to be the "new Balkan route", in relation to the route through Macedonia and Serbia that was especially prominent in the previous years.
Such migration flows require adequate preparedness and response from the affected local governments and all other local and national actors. The regional event thus brought together local government representatives from affected municipalities, NGOs working with refugees and migrants and state institutions responsible for (forced) migration.
"I see this event as a follow up of the conference we had in Zagreb when we gathered Mayors from at that time called Hot Spots of the Balkans Migration route in 2015. Back then, we anticipated that we need to learn lessons and apply them in future situations. So, here we are today, back to the future, facing the same problem, but in a new route Albania-Montenegro-B&H-Croatia", said in his opening speech Mayor Darko Fras, NALAS President. "What we will do in the next two days, best symbolises what NALAS really is: transfer of knowledge, exchange of experiences but also networking not only among municipalities but also the government agencies and civil society", said Mr. Fras.
The event, through a practical workshop (during day 1) and a high-level conference (during day 2) facilitated knowledge transfer and experience exchange on a regional level, bringing together lessons learnt in municipalities from Serbia and Macedonia and transferring these experiences and practices to a wider regional context, including Albania, Bosnia and Montenegro, for better dealing with migration movements and emergency situations.
The event participants worked together, coming up with concrete recommendations grouped in two clusters as follows:
Sharing and using existing experiences and knowledge for current challenges and emergency situations in municipalities
Municipalities that are facing current problems and emergency situations can be supported by more experienced municipalities, CSOs and government institutions through:
Developing and using a community of practice for emergency management and response, including a comprehensive database of experts and contact persons;
Establishing local coordination mechanisms between LGs, CSOs and other relevant stakeholders;
Communicating gaps and urgent needs of municipalities more clearly to CSOs;
Providing specialized trainings and expert workshops;
Organising study visits for staff from municipalities in Bosnia and Herzegovina, Albania and Montenegro to municipalities and central government sites in Serbia and Macedonia;
Enhancing cross-border dialogue and cooperation between municipalities in order to improve planning and be able to faster respond to municipal emergency
Preparing and predicting future developments
Different groups of institutions can contribute to improve effective municipal response and to build resilient municipalities with the following measures:
Investing in the long-term capacity development of local community representatives through specialised training measures on topic such as migration management etc.;
Focus on the development of integrated action plans, that also consider future developments in relation to migration issues;
Local Government Associations and municipalities should invest in the identification of joint funding programmes and capacity building for municipalities;
Based on an in-depth assessment of the national legal frameworks potential gaps and regulations to be amended can be identified. Additionally, the assessment of legislation across the region can contribute to defining more clear mandate of municipalities in the area of migration and explore possibilities of harmonization in the Western Balkans. This can enhance inter-municipal support within the country and also cross-border;
Make more use of existing data, forecasts and studies of European and International donors and agencies that can help to anticipate possible migration routes and other future challenges in the region.