Launching of the Project "Local Leaders in South East Europe: Lead for Change"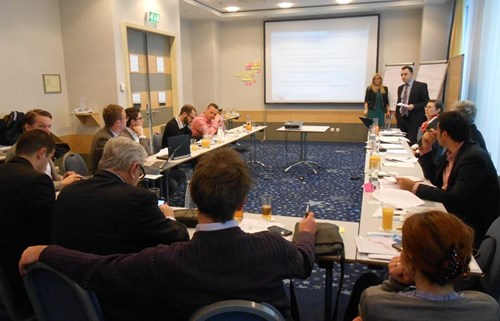 17/02/2014
kick-off meeting, organized on 17 and 18 February 2014 in Vienna, Austria launched the new NALAS project "Local Leaders in South East Europe: Lead for Change", implemented in partnership with the Open Regional Funds, Modernization of Municipal Services (ORF-MMS).
"Local Leaders in South East Europe: Lead for Change" aims at improving the management, leadership and cooperation capacity of municipalities and municipal enterprises with a particular emphasis on the improvement of municipal services and the subsequent capacity to absorb dedicated international funds. To this end, the project will foster exchanges and disseminate modern management standards and norms among municipalities and municipal enterprises in the partner countries via the respective associations or networks.
The project will provide technical assistance to the pilot projects identified during a stakeholder dialogue for implementing grant or loan agreements with international donors and banking institutions. It will help to identify the real needs of the municipal managers in setting up adequate management instruments and processes during the early stage of the project implementation. Based on pilot investment projects (e.g. water loss reduction project, etc.) guidelines for setting-up modern, sustainable and customer-oriented management capacities for public utilities and necessary curricula will be developed.
The project has two components:
Component 1. Organisation and facilitation of a dialogue between central and local administrations, international financial institutions and donors and other relevant stakeholders aimed for improvement of coordination of the overall local administration modernization processes and training policies in the region
Component 2. Strengthening the corporate management capacity and leadership of top local managers
The "Local Leaders in South East Europe: Lead for Change" project will focus on four pilot countries: Bosnia and Herzegovina, Macedonia, Serbia and Croatia. However, all interested NALAS member associations will benefit from the results of this project and will be included in the dissemination of the products.
After the kick-off meeting, project partners had the chance to meet Water Utility Associations from Macedonia, Bosnia and Herzegovina, Croatia and Serbia, partners of the Danube Water Programme and discuss the needs in the water sector, as well as possible future cooperation within the Project.