Informing reform efforts in Albania with regional best practices and peer learning exchanges among policymakers, experts and practitioners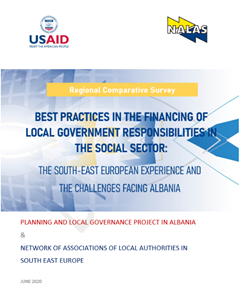 20/07/2020
In partnership with the USAID's Planning and Local Governance Project in Albania (PLGP), NALAS prepared a Regional Comparative Survey: Best practices in the Financing of the Local Government Responsibilities in the Social Sector: in Education, Social Protection and Healthcare.
The Regional Comparative Survey provides a consistent and comparative mapping on the responsibilities of South-East European Local Governments in education, social protection and healthcare and specific practices on how these responsibilities are financed in Albania, Bosnia and Herzegovina, Bulgaria, Croatia, Kosovo*, Moldova, North Macedonia, Romania, Serbia and Turkey.
The survey was prepared in the framework of the cooperation between PLGP and NALAS to help inform the Government of Albania's efforts to improve the regulatory and financing framework of the newly decentralized responsibilities in the social sector in Albania, with regional best practices, from countries that have a longer experience with decentralized social services. NALAS believes that the results of the survey will be helpful also for the advocacy efforts of the Local Government Associations the region as the challenges related to these services are very similar.
The results of the Survey were broadly discussed in two knowledge sharing and peer learning regional webinars organized by NALAS and the PLGP on June 29th and July 7th, 2020.
More information on the financing of local responsibilities in education, social protection and healthcare, will be found also in the upcoming 8th Edition of the NALAS Fiscal Decentralization Report, which will also provide on overview of the COVID-19 pandemic impact in education, social protection and healthcare. The 8th Edition of the Fiscal Decentralization Report will be published in August. For more information, please contact: info@nalas.eu and stafa@nalas.eu.
*This designation is without prejudice to positions on status, and is in line with UNSCR 1244 and the ICJ Opinion on the Kosovo Declaration of Independence.