Covenant of Mayors Ceremony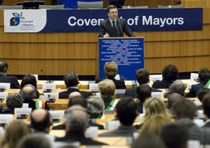 29/11/2011
Covenant of Mayors Ceremony will take place in Brussels on the 29th November. This Ceremony is the annual turning point of the Covenant movement where new cities and regions confirm their commitment. NALAS associations will bring several mayors who signed the Covenant this year to the Ceremony.
NALAS members are active Supporters of the Covenant of Mayors. A group consisting of SCTM representatives, state and local public institutions, cities and municipalities from Serbia is visiting EU institutions in Brussels. The visit is organized by Belgrade Open School BOS and Seriban EU Integration Office in the scope of training program on EU Energy Policy. On Wednesday November 23rd the group have met with Mr. Frederic Boyer from CoM Office. Four cities from Serbia have joined the CoM in last couple of months. CoM office will support in the scope of their capacities SCTM and Serbian municipalities in their effort to join the CoM and fulfil the expected obligations.
This year's ceremony will present interesting discussions between European policymakers and cities and regions to create a strong link and a fruitful dialogue between European policy initiatives and mayors' hands-on experience. Dr. Alija Behmen, the mayor of Sarajevo, will take part in the panel discussion The City as a Focus for Policy Initiatives.
The Covenant of Mayors is the mainstream European movement involving local and regional authorities, voluntarily committing to increasing energy efficiency and use of renewable energy sources on their territories. By their commitment, Covenant signatories aim to meet and exceed the European Union 20% CO2 reduction objective by 2020.
NALAS continues to work for the Covenant of Mayors to cover the whole South-Eastern Europe (SEE) including the municipalities from EU membership candidates and potential candidates. There have been already taken steps to make this possible. NALAS in collaboration with all its members, 15 associations of local governments, is working on promoting the Covenant in SEE amongst the 4000 municipalities in their operational region. At NEXPO, first of its kind municipal fair in SEE which Sarajevo hosted in March this year, 21 mayors signed the Covenant, and 10 local government associations, including NALAS, became its Supporters.