"Cities Developing Solutions" will meet in Istanbul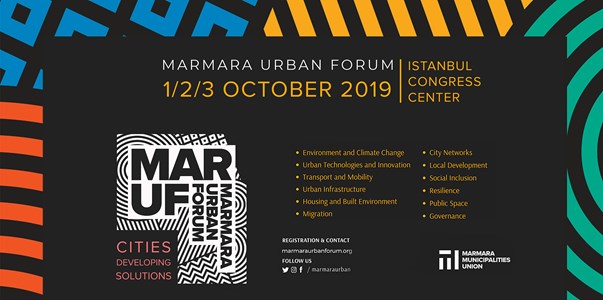 28/08/2019
ISTANBUL – Marmara Urban Forum will be held for the first time in Istanbul, Turkey on 1-3 October 2019 hosting more than 200 speakers from 25 countries and 3000 participants including 100 mayors, and the urban matters to be discussed include but are not limited to urban technologies, innovation, public space, immigration, climate change. Stakeholders of the cities such are NGO representatives, mayors, scholars from all around the world and Turkey are coming together on the same platform. The events are comprised of panels, parallel sessions, interviews, roundtables, workshops, concerts, exhibitions, competitions and technical trips organized for three days.
With Marmara Urban Forum (MARUF), Marmara Municipalities Union aims to establish an urban forum to be biennially organized at the international level. 
"CITIES DEVELOPING SOLUTIONS"
MARUF, organized with the motto "Cities Developing Solutions" in line with the Sustainable Development Goals, will be a platform where different voices will come together to discuss the importance and function of cities as well as their problems, and prepare a platform for sharing global and local information. The aim of the forum is to seek solutions to the economic, political, social, ecological problems caused by the urbanization process in the lives of individuals and societies and to examine these problems in solidarity and cooperation at local, regional, national and international levels.
12 THEMES
In its first year, Marmara Urban Forum will provide a detailed overview of the world of cities with a broad perspective of 12 themes: Environment and Climate Change, Urban Technologies and Innovation, Transport and Mobility, Urban Infrastructure, Housing and Built Environment, Migration, Social Inclusion, Resilience, City Networks, Local Development, Public Space, and Governance. 
MARUF aims to strengthen the role of local governments and cities in crises and human mobility situations for various reasons, to raise awareness on safe, inclusive, resilient and sustainable urbanization, to contribute to the transformation of cities to make them more liveable and equitable, to provide information flow between cities and city-regions and support networks of relations between cities.
Partners consist of the Ministry of Foreign Affairs Directorate for EU Affairs, Istanbul Metropolitan Municipality, Istanbul Foundation for Culture and Arts (IKSV), WRI Turkey Sustainable Cities, International Association of Public Transport (UITP), Swedish Institute, Japan International Cooperation Agency (JICA), Network of Associations of Local Authorities of South-East Europe (NALAS), as well as several municipalities located in the Marmara Region, development agencies and universities; prominent figures from these institutions are taking part in the forum's steering committee and advisory board. Attendance to the forum is free of charge and all the necessary information is available at www.marmaraurbanforum.org.
About Marmara Municipalities Union
Marmara Municipalities Union (MMU) is the first and the largest regional Local Government Association in Turkey with 192 members from the Marmara Region where the major industrial cities of Turkey, namely Istanbul, Kocaeli and Bursa are located.
The MMU's center is located in Istanbul. The Marmara Region is the center of scientific, cultural and high-value-added activities as well as of commerce, finance and industry. The Marmara Region inhabits around 25 million residents, making up one third of the population of Turkey. At the center of the region is the Sea of Marmara, which is an inland sea connecting Turkey's Asian and European parts.
It carries on activities in areas such as environment, urbanization, migration and social cohesion, local diplomacy, local economic development, resilience, urban technology and innovation. On these areas, MMU's activities include training, consulting, corporate capacity building, raising awareness, supporting scientific researches, advocating local democracy, and organizing events and meetings which gather relevant stakeholders.